Copyright 2013 Replica Guns and Ordnance Australia. All Rights Reserved.

Queensland Armourer's License Number 51001240-0


Welcome to Replica Guns and Ordnance Australia.

Supplying quality replicas to the film industry, museums ,collectors and Government Departments as training aids.
ALL REPLICA WEAPONS AND ORDNANCE ARE NOW LISTED BELOW, PLEASE SCROLL DOWN....click on the item and more photo's and price will be displayed
CREDIT CARD PAYMENT IS ALSO AVAILABLE
Website Last Updated 25th June 2014

IF YOU ARE EMAILING REGARDING PRODUCTS , PRICES , OR TO PLACE AN ORDER.....A CONTACT PHONE NUMBER MUST BE PROVIDED OR NO REPLY WILL BE GIVEN ...ALL PERSONS WISHING TO MAKE A PURCHASE MUST BE 18 OR OVER.
IF YOU HAVE A LEGAL QUESTION REGARDING REPLICA WEAPONS ETC THE FREQUENTLY ASKED QUESTIONS ( FAQ) PAGE HAS LINKS TO ALL THE DIFFERENT STATE WEAPONS LICENSING/FIREARMS BRANCHES OR CONTACT YOUR LOCAL POLICE , ( I have a fair knowledge , however laws are constantly being amended and differ from state to state)
_______________________________________________________________
EMAIL - sales@replicagunsandordnanceaustralia.com

Phone - Eric -0417 006591

We can now provide any replica manufactured in the Denix range, if it's not listed please email your request and i will provide a price to pre order from the next shipment.
Now Available
The Best M18 grenade replicas now available ,,,,,,these are correct to Vietnam era issue M18 Smoke Grenades .. not like the recent M18's ... Metal canister, metal lever and pin, Metal dummy fuse with working spring. Correct seem on side of canister, correct crimp to top and bottom of canister. Correct 4 top vent holes and single bottom vent hole with tape covers. Correct stenciling to canister and lever. Available in colours Red, Violet, Yellow, Green , White , Riot Grenade and Incendiary Grenade !!
ONLY 2 each of each type available ..$ 95.00 each plus $ 10.00 post ( upto 3 grenades) or the set of 7 different types for $ 620.00 posted Free
IN STOCK NOW ...DENIX REPLICA HANDGUNS FOR IMMEDIATE DELIVERY - FREE POST AUSTRALIA WIDE ON THESE !!!!
Webley Revolvers and Browning Hi Power Pistols $ 260.00 each
German Lugers ...standard Barrel timber grips $ 260.00 each
Marine - Long barrel - timber grips $ 275.00 each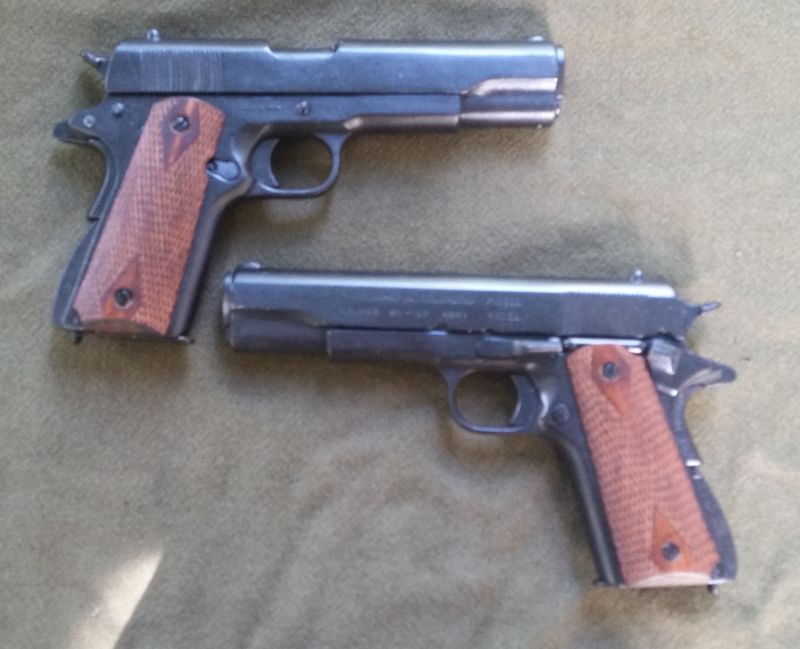 Colt 1911 .45 Auto - timber grips $ 260.00 each
German P38 Walther ( mag fixed) - $ 260.00 each
DENIX Catagory R replicas ...metal construction , timber furniture , cock and click, mag removes !! most field strip very similar to the real steel !!
All supplied with Queensland Form 31 Certificate of a Firearm being permanently inoperable... if in Queensland will require a PTA ( serial number supplied on payment received for PTA etc ). Only a couple left
$ 790.00 delivery by courier included ( to your dealer if required by law )
AK47 , M1A1 Thompson SMG, M16A1 Rifle, MP41 and STG 44
Denix MP 40 SMG...with folding stock $ 1100.00 delivered
ONLY one left ..NO more ..folding stocks now a prohibited import